PTC Rummage Sale Tomorrow!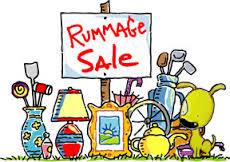 This is a friendly reminder that the Parent Teacher Committee (PTC) is having their rummage sale tomorrow, Saturday, February 25, 2017 at 9:00am.
All donations are being accepted after school on today, February 24th (between 2:45 and 5:00pm) or if you are unable to bring your items on Friday, drop-off is on Saturday, February 25th (between 6:00 and 8:00am).
Please call the school office at 247-5589 should you have any questions or want to help out with the sale. Mahalo for your support!